New Caledonia 5 Francs 1926
Face:
woman head in helmet; denomination;
Text:
BANQUE DE L'INDO-CHINE
= Bank of Indochina
;
CINQ FRANCS
= Five francs
;
NOUMÉA
;
PAYABLES EN ESPÈCES AU PORTEUR
= Payable to bearer in cash
;
Le Président
= President
[signature: Marcel Borduge];
Le Directeur Général
= General Director
[signature: Paul Baudouin];
L'ARTICLE 139 DU CODE PÉNAL PUNIT DES TRAVAUX FORCÉS CEUX QUI AURONT CONTREFAIT OU FALSIFIÉ LES BILLETS DE BANQUES AUTORISÉES PAR LA LOI
= Article 139 of Penal Code punishes with the forced labour those who counterfeits or falsifies the bills of the banks authorized by the Law
;
CH. WALHAIN. FEC.
[designer: Charles Albert Walhain];
E. DELOCHE. SC.
[engraver: Emile Deloche];
Back:
denomination;
Text:
BANQUE DE L'INDO-CHINE
= Bank of Indochina
;
L'ARTICLE 139 DU CODE PÉNAL PUNIT DES TRAVAUX FORCÉS CEUX QUI AURONT CONTREFAIT OU FALSIFIÉ LES BILLETS DE BANQUES AUTORISÉES PAR LA LOI
= Article 139 of Penal Code punishes with the forced labour those who counterfeits or falsifies the bills of the banks authorized by the Law
;
Watermark:
Vietnamese male head See also: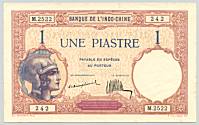 French Indochina 1 Piastre 1921-1931
P-36b

5 Francs 1926